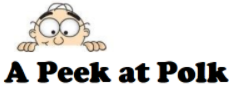 Check out the Peek at Polk
Dorothy Rinaldi
Wednesday, April 29, 2020
A Peek at Polk ~ April 26, 2020


I hope this finds you all well and staying healthy! To all of our parents who are first
responders, healthcare workers, or employed in other essential fields, THANK YOU! We
are all so appreciative!!

I hope you all enjoyed a lovely "staycation" for April break and found some time to
literally unplug. We enjoyed last week's Spirit Week and the creative and silly ways
our students and teachers participated! Thanks to everyone who emailed, tweeted,
or shared photos on Facebook! Seeing each other, even in pictures, helps us all feel
more connected.

As we enter our fourth week of distance learning, and our seventh week away from
school, we continue to focus on making sure our students and families are doing
okay. We know that there is a lot going on these days and many parents are
balancing working inside or outside the home, worrying about staying healthy, and
trying to support their kids in participating in distance learning. We understand! Please
know that our attempts to reach out are to ensure everyone is okay and see what we
can do to offer support. Please visit this link (https://forms.gle/UUmHaRLBa7Z6Z7Jk9)
to complete a quick check-in form to let us know how you're managing.
We miss our students!! Please show your children the pictures below. We hope they
will put a smile on their faces!

• Teacher Appreciation Week- Next week, May 4th-8th is Teacher Appreciation
Week, a time when we honor ALL of the amazing staff members at Polk
School. The PTO and I have some wonderful things planned to honor these folks,
social distancing style. We'd love to get the kids' input too and share their love for
their teachers. Please have your child complete this Google form for any of their
teachers: https://forms.gle/txRNfoWAUdqb...
• 5th Grade Field Trip- Sadly, we have to cancel the field trip to the CT Science
Center. If we do return on May 20th, we can't guarantee the Science Center will
be open or able to accommodate us. We are working to process refunds and I will
update 5th grade families when this has been completed.
• Yearbook- As a reminder, our PTO is generously purchasing yearbooks for all 5th
grade students. They will be available to order online for all 3rd and 4th graders at a
discounted rate of $10. We will share more information about how to order the
yearbooks, and how they will be distributed, soon.
• Father's Day Sale- The Father's Day sale is up and running (and this is a great way
to get a gift without leaving your home) at the Cheddar Up website, which can be
accessed by going to bit.ly/37WVwRS. The deadline to order is June 5th for Father's
Day.

• Distance Learning Updates:
There are still Chromebooks available should you need one for your son or
daughter. Please email Jeff Turner at turnerje@watertownps.org to arrange
for pick up.


Mrs. Rinaldi is teaching the students all about email, which is new to their
accounts. She reminded them that this is primarily to be used to contact a
teacher or upload material. Your child needs to join the "Specials" Google
classroom in order to access this lesson. See the codes below to join
Grade 3 - 3mvywml Grade 4 - ptbqb6e Grade 5 - fcquww4


Jennifer L. Galik
Principal, Polk School
galikje@watertownps.org
Follow Polk School's adventures on Twitter: @PolkESPrincipal